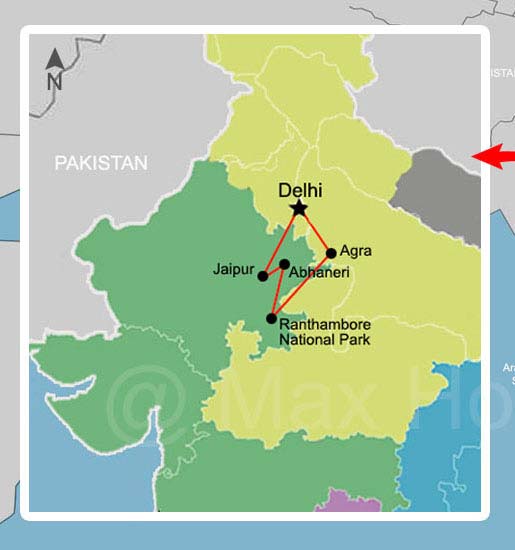 Trip introduction
This is one of our most selling 'Guaranteed Departure' group tours of India which offers you exploration of North India's cultural history on its Golden Triangle tour circuit combined with tiger watching activities at north India's finest national park of Ranthambore (Sawai Madhopur). Embark on a much enjoyable fixed departure group tour of India and meet with other travellers joining our India group tour from different parts of the world. The main highlights of the group tour includes the beautiful contrast of Old and New Delhi, a decorated elephant ride in Jaipur to travel through the steep Aravali Hill to reach the Amer Fort, Rajasthani Folk dance performances, a visit to extraordinary stepwell of Chand Baori at Abhaneri village near Jaipur, Tiger watching activities at Ranthambore National Park, tremendously, beautiful structure of Taj Mahal and many more attractions waiting to be explored.
Brief itinerary
Day 02
:
Old & New Delhi sightseeing tour
Day 03
:
Delhi to Jaipur drive
Day 04
:
Jaipur, Amer Fort and Jaigarh Fort tour
Day 05
:
Jaipur to Ranthambore National Park drive via Abhaneri stepwell
Day 06
:
Jungle games at Ranthambore National Park
Day 07
:
Ranthambore to Agra drive ex Fatehpur Sikri
Day 08
:
Agra to Delhi drive
Day 09
:
Depart from Delhi
Trip Highlights
Unique contrast of Old and New Delhi
Age old and crowded market place of Mughals
Explore the fabled 'Pink City' of Jaipur
Take a princely ride on an elephant to reach Amer palace situated on a hill
Witness the beauty of timeless Taj Mahal
Ride on a cycle rickshaw for a real Indian life experience
Appreciate the folk dancers performing live for you in Jaipur
Taste the finger licking Indian cuisine
One of the finest age old step-well architecture of Chand Baori at Abhaneri village
Ride on a jungle adventure to see 'The Royal Bengal Tiger' in its natural habitat
Destinations and distance:
total distance covered 1055 kms approx
Delhi
256 kms / 4hrs
Jaipur
95 kms / 2hrs
Abhaneri
150 kms / 4hrs
Ranthambore National Park
260 kms / 5.5hrs
Fatehpur Sikri
35 kms / 45min
Agra
205 kms / 4.5hrs
Delhi
Day 01 : Arrive Delhi
You will be received by our representative at Delhi airport or railway station. After a warm welcome you will be escorted to your pre booked hotel for check in. Overnight stay is at the hotel. Airport pick up will be provided either in a private chauffer driven car or in a coach with other group members, depending on the total no. of travelers arriving at the given time.
Included entrances: no sightseeing tour
Day 02 : Delhi Sightseeing
Meeting with the tour guide will be in the lobby of the hotel after breakfast. Here the tour guide will provide you with some brief introduction about your trip and then will take you on a sightseeing tour of Old and New Delhi.
A sightseeing tour of Old Delhi will include visit to Jama Masjid (largest mosque), Chandni Chowk (the silver street) and Raj Ghat (The cremation ground of Mahatma Gandhi, world ambassador for peace and father of the nation). While we visit Chandni Chowk, we enjoy a man driven rickshaw ride in the bustling streets of Chandni Chowk which is going to be a highlight of the day and an amazing travel experience for you on second day of Taj Tiger Culture Group tours.
Take a drive past through India Gate (war Memorial), President's Palace and the diplomatic area of Delhi. Since stopping near the palace is not permitted, if the group wishes to stop here for a while they have to ask the guide and drivers to park the vehicle near India Gate (or some nearby parking area) and then take a short walk to click some pictures of beautiful buildings which dates back to British Empire in India.
Lunch will be in a local city restaurant before we head to visit other places in New Delhi.
After lunch, we will visit Humayun's Tomb, Qutab Minar a soaring 73 meters high concrete structure built in 1193 Qutub-Ud-Din Aibak after the defeat of Delhi's last Hindu Kingdom, Lotus Temple (Bahai's house of worship and a beautiful flowerlike shaped structure).
Your overnight stay will be at your hotel in Delhi.
Included meals: Breakfast, Lunch
Included entrances: Humayun's Tomb, Qutub Minar, Lotus Temple
Day 03 : Delhi – Jaipur
After breakfast, we will drive to Jaipur. This is the capital city of Rajasthan and also known to travelers as 'Pink City' for its pink coloured houses, markets and historical buildings seen everywhere in the city. Other than the historical monuments, Jaipur is also famous for precious and semi precious gem stones, jewels, handicrafts, etc. People from around the world come here to shop for precious and semi precious stones.
On reaching Jaipur we will directly take you to Galta Temple. Then go to our hotel to check in and keep our luggage in the room.
In the evening, we have a special program for watching live Rajasthani folk dances, puppet show, etc followed by delicious dinner arranged in a city restaurant.
Included meals: Breakfast, Theme Dinner
Hotel info
Included entrances: No entrance in Galta Temple.
Day 04 : Jaipur
The day starts with an excursion to Amer Fort which is situated 10 kms out of Jaipur city on the top of Aravali Hill. Overlooking the city of Jaipur, the fort was the ancient capital of Rajput dynasty. We will ascend the fort on elephant's back or by regular jeep (elephant rides are subject to availability and we need to reach the fort early to get the ticket for the elephant ride). After Amer Fort, we will proceed to Jaigarh Fort to see the Victory Fort and the giant canon named 'Jaivana'. The 'Jaivana canon is the largest canon on wheels having barrel over 3 meter long and 50 ton in weight.
Then we go to the city with our guide to explore the beautiful monuments including City Palace Museum, Jantar Mantar Observatory and Hawa Mahal (Palace of Winds).
Spend some time walking around in the busy and colourful bazaars of Jaipur. We will visit the local artisans, making the lac bangales. Art of making lac bangles in Jaipur is a peculiar flair; where through the length of the lane one can let his or her senses indulge in a visual canvas of colors and the music of jingling bangles, which punctuates the endless chatter of women who flood the many shops. Enjoy a short 'rickshaw ride' before you drive back to your hotel in the evening.
Overnight stay is at hotel.
Included meals: Breakfast
Included entrances: Amer Fort by Elephant, Jaigarh Fort, City Palace Museum, Observatory, Hawa Mahal
Day 05 : Jaipur – Abhaneri – Ranthambore
After leisurely breakfast at around 09 AM, we head to Ranthambore National Park today for wildlife adventure activities where we will be staying for two nights in a jungle resort. On the way to Ranthambore we stop at Abhaneri village to visit the early medieval step well 'Chand Baori'. The village of Abhaneri is in ruins now but it attracts a large no. of travelers especially the students group from around the world to see the huge step well which is a unique idea conceived by the natives to work as a water reservoir.
On arrival at Sawai Madhopur, we reach the famous Ranthambore National Park where we will check into our jungle resort near the park. Spend leisurely time on you Taj Tiger Culture group tour with the nature and stay in your resort. Dinner is offered by the hotel in your package and will be served in the restaurant.
Included meals: Breakfast, Lunch, Dinner
Hotel info
Included entrances: Chand Baori Stepwell
Day 06 : Ranthambore
The day schedule is set for early morning and afternoon safari into the jungle by jungle van with our naturalist. During the jungle trip you will see a variety of species in one of the biggest of northern India. The most common wild animals you may encounter here during the day light are the Royal Bengal Tiger, Leopard, Striped Hyenas, Sambar Dear, Nilgai, Wild Boar, Desert cats, Indian flying foxes, Mongoose, etc. The normal timing of safari here is 06.30 AM in the morning and 2.30 PM in the afternoon. Each trip ends for about 3.30 hours.
All meals and stay will be in the resort at Ranthambore park today.
Included meals: Breakfast, Lunch, Dinner
Included entrances: Jungle activities
Day 07 : Ranthambore - Fatehpur Sikri - Agra
After breakfast, we head to Agra today. Today the drive is little long and may be little uncomfortable. But the travelers will enjoy watching the countryside and the life of the villagers living along the highway.
On the way to Agra, we stop at Fatehpur Sikri. This ghost city lies just 30 kms before Agra on Jaipur-Agra highway. The city of Fatehpur Sikri was built by Mughal Emperor Akbar to commemorate the birth of his son Jahangir. Later after staying here for about 15 years, Mughals moved to Agra and abandoned the city of Fatehpur due to acute lack of water in the region. The main attractions of Fatehpur Sikri are Hall of Audience, Dargah of Sufi saint Khwaja Moinuddin Chishti and Buland Darwaja.
We move towards Agra now where the representative of the company is waiting for us to provide us smooth check in at the hotel.
Enjoy comfortable night stay at your hotel in Agra.
Remarks : Optional visit to famous 'Mohabbat-e-Taj' show can be arranged in the evening on demand.
Included entrances: Fatehpur Sikri, Taj Mahal
Day 08 : Agra - Delhi
After breakfast, we will visit gorgeous Taj Mahal which is known as the finest monument built for love and is one of the Seven Wonders of the World. Watching Taj Mahal during sunset or sunrise can be an experience to cherish forever. You will enjoy a Tonga (horse cart) ride from the parking area to the monument. This is the much awaited time now when you are entering the most beautiful monument you may have ever seen. Spend about two hours in the Taj Mahal complex, listening to the interesting love story of Emperor Shah Jahan and his beloved wife Mumtaj Mahal and capture the most memorable moments in your camera.
Later visit the massive fort of Agra. Dotted on the bank of river Yamuna the fort was built by the Mughal Emperor Akbar in 1566. The major attraction of the fort are the hall of public audience where the king heard public petitions and 'hall of private audience' where the king sat on his gem-studded peacock throne and met foreign ambassadors and rulers of friendly kingdoms.
Later we head to our last destination on our trip, New Delhi. Here we have rooms booked for us in the hotel and you can spend the time waiting for your onward flight to home/next destination.
Included meals: Breakfast
Included entrances: Tonga Ride, Taj Mahal, Agra Fort
Day 09 : Leave from Delhi
Depending on your flight timings our representative will provide you comfortable transfers from your hotel to airport. For those guests who are leaving with afternoon flights today, we will provide you breakfast in the hotel and stay until noon time. This way your taj tiger culture group tour ends offering you a great travelling experience and enjoyment to you.
Included meals: Breakfast
What's included
Accommodation
04 nights in handpicked modern hotels
02 nights in a heritage hotel (palace/residence of royal families)
02 nights in a jungle lodge
Transport
Air conditioned coach/bus/car
Cycle Rickshaw
Elephant
Walk on foot
Jungle van/jeep
Tonga (Horse cart)
Meals
07 Breakfasts
03 Lunches
03 Dinners
Tour Guide / Escort
Escorted airport transfers
Expert and qualified tour guides in each city
Others
01 Rickshaw ride at Chandni Chowk in Delhi
Decorated elephant ride at Jaipur to ascend the fort
Rajasthan Folk Dance show at Jaipur
02 Jungle ride in Ranthambore on sharing basis
01 Tonga ride at Agra to visit Taj Mahal
Monument & museum entry tickets for places listed in the tour
Taxes and service fee
Not included

International or domestic flights tickets and airport taxes

Travel Insurance

Visa

Tips at hotels, restaurants, stations, monuments etc.

Portage at airports, railway stations and hotels

Pre and post tour accommodation or transport services

Meals other than specified

Camera fee at monuments or museums

Personal expenses such as drinks, snacks, laundry, telephone calls, mini fridge/bar in room etc.

Single room cost
Other item which is not specified in the above list of inclusions