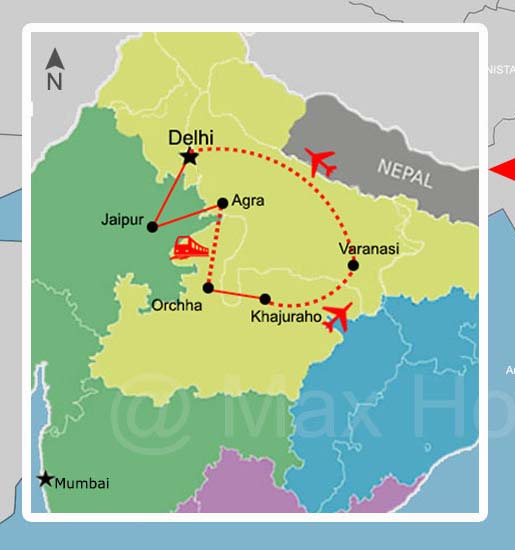 Trip introduction
This exciting cultural heritage of India Group tour of 10 days is a guaranteed departure India group tour package that flags off from Delhi highlighting the magnificent forts and palaces built by Rajput kings, dashing monuments at Agra including the ghost city of Fatehpur Sikri and world's finest monument of Taj Mahal reminding of the great architectural passion and expertise of Mughals. This most appreciated cultural tour of North India takes you beyond the Golden Triangle group tour circuit and offers an opportunity to explore the incredibly carved age old temples of Khajuraho and the oldest living city of Varanasi situated on holy river Ganges. Join this cultural heritage India group cultural adventure tour for a real Indian experience and take with you the memories which will live in your mind forever.
Brief itinerary
Day 02
:
Old & New Delhi sightseeing tour
Day 03
:
Delhi to Jaipur drive
Day 04
:
Jaipur, Amer Fort
Day 05
:
Jaipur to Agra drive via Fatehpur Sikri
Day 06
:
Train journey to Jhansi and drive to Orchha village
Day 07
:
Orchha to Khajuraho drive
Day 08
:
Khajuraho to Varanasi by flight
Day 09
:
Varanasi and Sarnath temple sightseeing tours
Day 10
:
Varanasi to Delhi by flight. Depart to home from Delhi.
Trip Highlights
Uncover the beautiful contrast of Old and New Delhi
Visit the market place of Mughals at Chandni Chowk
Explore the fabled 'Pink City' of Jaipur
Take a princely ride on an elephant to reach Amer palace situated on a hill
Witness the beauty of timeless beauty of Taj Mahal
Ride on a cycle rickshaw for a real Indian life experience
Appreciate the folk dancers performing live for you in Jaipur
Taste the finger licking Indian cuisine
Experience travel in an Indian rail
Peruse Khajuraho erotic temple carving at
Traditional boat cruise on holy river Ganges at Varanasi
Destinations and distance:
total distance covered 2214 kms approx
Delhi

245 km / 4hrs

Jaipur

206 km / 3.5hrs

Fatehpur Sikri

35 km / 45min

Agra

234 km (Train)

Jhansi

17 km / 20 min

Orchha

172 km / 2.5 hrs

Khajuraho

443km (Flight)

Varanasi

10 km / 15min

Sarnath

802km (Flight)

Delhi
Day 01: Arrive Delhi
Welcome to one of the best tour of Cultural heritage of India group tour based on cultural history of this great nation. As you arrive in Delhi today, we provide you assisted transfer to your hotel. The airport transfer can be by a private car or in a bus along with other group members, depending on the total arrivals at given time that is a cultural heritage India of group tour.
Included entrances: no sightseeing trip
Day 02: Delhi sightseeing
During your Cultural heritage group tour you will be visiting some of the great cities and sites. Today, we give a kick start to our tour when we pick you from you hotel after breakfast for a combined city tour of Old and New Delhi. Our tour guide and driver will meet the group in the hotel and after a short brief, we will continue the sightseeing trip.
The first half of the day will be busy with visits to the Old Delhi sites which includes Jama Masjid – the largest mosque in the country, Chandni Chowk – the historical market place for the Mughal empire in India. During the sightseeing of Old Delhi, we will also experience a short 'rickshaw ride' in the busy streets and markets of Chandni Chowk.
Then we take a drive through India Gate, President's Palace, Parliament Building and Diplomatic area. This beautiful part of the city designed by the British government is today the hub of Indian politics and a great attraction for the visitors that you will come across on the visit on cultural heritage of India Group Tour.
Stop in a city restaurant to enjoy your meal according to Cultural Heritage of India Group Tour
After lunch proceed for visit to Humayun's Tomb (commissioned by the first wife of Mughal Emperor Humayun in 1570 at a cost of about 1.5 million rupees, this is a beautiful Unesco World Heritage Site), Qutub Minar (This is the finest example of Persian architecture in India. This 73 meter high concrete minaret is the tallest building in India) and Gurudwara Bangla Sahib - one of the famous Sikh temple in Delhi where people of all religion comes to offer prayer.
Evening we will come back to the hotel for night stay.
Included meals: Breakfast, Lunch
Included entrances: Humayun's Tomb, Qutub Minar, Rickshaw Ride
Day 03: Delhi - Jaipur
Head to Jaipur after breakfast. Get collected in the lobby of the hotel where you meet with your drive to start morning drive to Jaipur. On arrival at Jaipur, we directly reach the hotel and take the room keys to keep our luggage and relax for a while.
After check in visit Gaitore Ki Chhatri – It is a cremation group for the members of the royal families and it is just beautiful for its Chhatri "Cenotaphs)
Today we have theme evening planned for you. We will take you to a famous place in the city where you will enjoy live folk dances, local music, puppet show, magic shows, etc. As Jaipur is a famous place in the world for Astronomy and Astrology, you can also consult with some well known Astrologer who may be available in the premises or can be called for you on order. Followed by the entertainments, we have delicious food served in the restaurant for your Dinner.
Included entrances: No Entrance fees
Day 04: Excursion to Amer and City Sightseeing
After breakfast, we drive to Amer Fort which is about 10 kms out of the Jaipur city. We take an elephant ride to reach the fort on the top of the Aravali hill. The decorative elephant ride at Amer Fort is definitely going to be a highlight of the trip as you feel like a Maharaja while they transfer you through the steep slope to the fort. Elephant ride are limited here and we need to reach on time to get the chance to enjoy the elephant ride. Those who are not interested in taking the ride on elephant may use the jeep to reach on the hill.
The Amer Fort or Amer Palace takes you to the history dating back to 16th century. The main attraction of Amer Fort are Deewan-e-Aam (Hall of Public Audience) and Deewan-e-Khaas (Hall of private audience), Sukh Niwas Mandir and Sheesh Mahal (Mirror Palace).
Later visit one of the best palace 'Hawa Mahal', City Palace Museum and Jantar Mantar Observatory (an excellent example of strong Indian astronomy during bygone era). After visiting the monuments, we will spend some time in the Pink City enjoying a short rickshaw ride and walk in the busy markets. Jaipur is known to the travelers as 'Pink City' due to its pink coloured buildings, monuments and houses dotted almost everywhere in the city.
Included meals: Breakfast, Theme Dinner
Included entrances: Amer Fort by Elephant,City Palace, Jantar Mantar
Day 05: Jaipur – Fatehpur Sikri – Agra
Today we start the day little early and after breakfast we travel in our vehicle to Agra. On the way to Agra we will stop at Fatehpur Sikri to visit the forbidden city build by Mughal emperor Akbar. This deserted city was abandoned by them due to lack of water in the region. After deciding to leave the city of Fatehpur Siri, Mughals moved to Agra where they set their capital of Mughal Empire.
Meet with your guide at Fatehpur Sikri and start a sightseeing of the fort. Visit the famous sites of the fort and pay a visit to the 'dargah' of Khwaja Mainnuddin Chishti who was a famous sufi saint and advisor to the Royal family of Mughals.
After visiting Fatehpur Sikri, we head to Agra and after quick check in at the hotel we move to our next monument. This is perhaps the most awaited moment for you and other travelers as we are now going to visit the 'Wonder of the World' and perhaps the most beautiful monument of love- 'Taj Mahal'. A Tonga ride to reach Taj Mahal will be a stylish way of transport and you will surely love it. As we enter the Taj Mahal complex we see on our right the huge white marble structure which was designed and carved by over 20,000 men labored who worked for more than 17 years to finish it. In the first look you will stand stunned when you realize the grandness and beauty of Taj Mahal and the eternal love of Emperor Shah Jahan who built this wonderful structure in the memories of his beloved wife.
After having spent time at Taj Mahal we now move to Agra Fort for a quick visit. This is a huge fort built on the bank of River Yamuna. The main attraction of the fort for the visitor is the area where Shah Jahan was kept under 'house arrest' by his son Aurangzeb. From here Shah Jahan used to see Taj Mahal and remember his wife during imprisonment.
Night stay will be at your hotel in Agra.
Included entrances: Taj Mahal, Agra Fort, Fatehpur Sikri
Day 06: Agra – Jhansi - Orchha (Train)
Early breakfast in the hotel and then transfer to the railway station from where we take a three hours journey in an air conditioned tourist train to Jhansi. The train departs at 08.10 AM from Agra to reach Jhansi by 11.20 AM. Enjoy a comfortable journey in a superfast Indian tourist train Shatabadi Express.
As you arrive at Jhansi railway station, our representative will transfer you to Orchha for check in at the hotel.
Orchha is a tiny village in Madhya Pradesh and is a famous spot for international travelers. A sightseeing trip of Orchha includes visit to Jehangir Mahal, which is one of the most remarkable architecture of Orchha built by Raja Bir Singh to honor the visit of Jehangir to Orchha. Raj Parveen Mahal built by king Indramani in the 17th century for his love to Poetess Parveen who was gifted with extraordinary talent), Chaturbhuj Temple (built in the year 1558-1573 the temple is placed on big stone formation), Laxmi Narayan Temple are also some of the main attractions of Orchha.
Spend relaxed tome at your hotel in Orchha.
Included entrances: Jehangir Mahal, Rai Praveen Mahal
Day 07 : Orchha – Khajuraho
Morning after breakfast drives to Khajuraho. Khajuraho is world famous for its excellently carved erotic temples dating back to 950 and 1050 AD during the Chandela dynasty. The Khajuraho group of monuments are the evidence of the architectural genuis dating to Chandela Dynasty. Listed among the 'Unesco World Heritage Sites' and it invites many thousand of travellers every year from almost every corner of the world. Originally there were 85 temples but now only 22 have survived the ravage of time on a cultural heritage of India group tour.
On arrival at Khajuraho check into the hotel.
Later start your guided sightseeing tour and visit the 31 meter high Kandariya Mahadeo Temple. This is one of the most typical Khajuraho temple showcasing exquisite carvings and intricate and detailed craftsmanship in stone depicting divine deities, celestial maidens, eternal lovers, gods and goddesses. This temple is dedicated to Lord Shiva and enshrines the 'linga'.
Also visit Vishwanatha Temple, Chausath Yogini Temple dedicated to Goddess Kali, Devi Jagdambe Temple, Chitragupta Temple dedicated to Sun God and other temples in the Western Group Complex.
In the evening, enjoy beautiful 'Light & Sound Show' in the temple complex which will be subject to availability.
Overnight stay will be at hotel in Khajuraho.
Included entrances: Vishwanatha Temple, Chausath Yogini temple, Devi Jagdambha temple, Chitragupta temple, Western complex, Light & Sound Show
Day 08: Khajuraho – Varanasi (Flight)
In the morning after breakfast visit the Eastern and Southern Group of temples including few main Hindu and Jain temples. Later you will be transferred to the airport to board your flight to the holy city of Varanasi. Upon arrival in Varanasi you will be met by our representative at the airport who will escort you to your hotel.
Spend some relaxed time in your hotel and then we will take you to 'Dashashwamedh Ghat' (famous bank of holy river Ganges in Varanasi) to witness the grand Aarti ceremony (prayer) which takes place here every evening.
We will take a short ride on a boat (subject to availability) to experience the spiritual atmosphere around the 'ghat' created during the prayer ceremony and also to capture some beautiful pictures of the young Brahmin boys performing the 'Aarti'.
We come back to our hotel for relaxing for the night.
Included entrances: 'Dashashwamedh Ghat (No Entrance Fees)
Day 09: Varanasi
Varanasi is one of the oldest living city of the world. It is also known as Banaras. Varnasi is a major tourist destination for Hinduism in India and it has a large number of famous temples. Apart from Hindus a lot of Buddhist pilgrims also come here to pay a visit to Buddhist stupa and temples of Sarnath which lies about 10 kms out of the city.
Today early morning on cultural heritage group tour of India, we go again on the bank of the river, where, we hire a boat for a longer ride from Dashashwamedh Ghat to Manikarnika Ghat. The one hour long morning boat ride will give us the chance to witness the early morning activities, lifestyle and offering of the locals. During the ride, the guide will explain you about the history of Varanasi, rituals and life of people of Varanasi. You will see the ghats in a row where people pray, bath, wash their clothes and cremate the dead bodies. You will be welcomed to ask questions rising in your mind after seeing the various activities and rituals.
After finishing the boat ride, we get off at Manikarnika Ghat and start a 30-40 minutes walk through the narrow streets into the very heart of Varanasi city. Dotted with many small temples, houses, shops and guest houses these streets, takes you to Kashi Vishwanath Temple (Golden Temple) and Durga Temple. Pay a visit to the temples and then go back to your hotel.
After breakfast, we will visit the famous Hindu Benares University. Established in 1916, the internationally reputed University is a long regarded education centre of India. Spanning across 1300 acres the University provides a peaceful atmosphere away from the outside city. We take a drive past from inside the campus and then continue drive to Sarnath.
Sarnath is a famous Buddhist pilgrimage spot near Varanasi. After Buddha attained enlightenment at Bodhgaya, he came to Sarnath and delivered his first sermon. Great Ashoka, while spreading Lord Buddha's message of love visited here in 234 BC and erected a 'stupa' here. There are many other Buddhist structures dating back to 3rd century BC and 11th century AD.
We come back to Varanasi and spend rest of the time in our hotel while relaxing.
Included meals: Breakfast
Included entrances: Sarnath, Benaras Hindu University
Day 10: Varanasi-Delhi-Home (Flight)
After breakfast, you have free time to explore the city on your own and enjoy a rickshaw ride in the busy streets. Later our representative will transfer you to the airport from where you board your flight to Delhi on cultural heritage group tour of India.
In Delhi you will be connected with your International flight back to home.
Included meals: Breakfast
Included entrances: no sightseeing trip
What's included
Accommodation
07 nights in handpicked modern hotels
02 nights in a heritage hotel
Transport
Air conditioned coach/bus/car
Cycle Rickshaw
Elephant
Walk on foot
Tonga (Horse cart)
Train / Rail
River boat
Aeroplane
Meals
10 Breakfasts
01 Lunch
01 Dinner
Tour Guide / Escort
Escorted airport and railway station transfers
Expert and qualified tour guides in each city
Others
01 Rickshaw ride at Chandni Chowk in Delhi
Decorated elephant ride at Jaipur to ascend the fort
01 Tonga ride at Agra to visit Taj Mahal
Air-conditioned class deluxe train tickets
Monument & museum entry tickets for places listed in the tour
Light & Sound Show tickets at Khajuraho
Traditional boat ride on river Ganges at Varanasi during Aarti ceremony
Morning boat ride on river Ganges
Taxes and service fee
Not included

International or domestic flights tickets and airport taxes

Travel Insurance

Visa

Tips at hotels, restaurants, stations, monuments etc.

Pre and post tour accommodation or transport services

Meals other than specified

Camera fee at monuments or museums

Personal expenses such as drinks, snacks, laundry, telephone calls, mini fridge/bar in room etc.

Portage at airports, railway stations and hotels

Single room cost
Other item which is not specified in the above list of inclusions