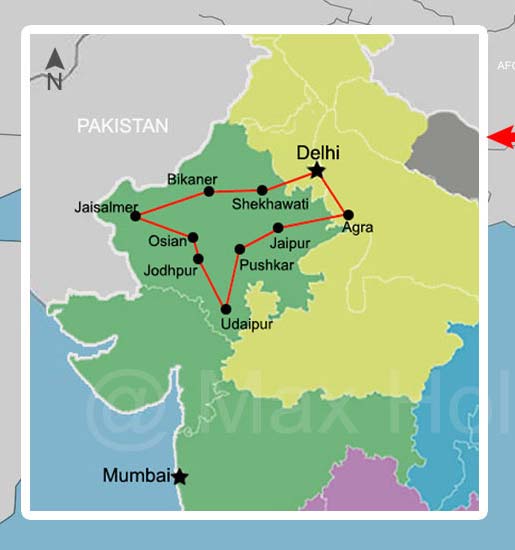 Trip introduction
Rajasthan with its grandeur and rich architectural heritage, beautiful lakes, stunning wildlife, unmatched culture, delicious cuisine and golden deserts has always been remained one of the most visited state in India by travellers. Majestic fort and palaces India group tour on an adventure trip takes the vast history of Rajasthan dating back to 5000 years. Explore the colourful and romantic cities of Rajasthan with unbelievably beautiful architecture in its ancient monuments, forts, palaces, havelies, mansions, temples and undoubtedly the most hospitable people welcoming you to their home and heart always. Experience, the real joy of travelling in Rajasthan with us in our very special 'Majestic Forts & Palaces' fixed departure India group tour package.
Brief itinerary
Day 02
:
Old & New Delhi sightseeing tour
Day 03
:
Delhi to Shekhawati drive
Day 04
:
Shekhawati to Bikaner drive
Day 05
:
Bikaner to Jaisalmer via camel breeding farm
Day 06
:
Jaisalmer and Sam Sand Dunes exploration
Day 07
:
Jaisalmer to Jodhpur drive via Osian
Day 08
:
Jodhpur to Udaipur ex Ranakpur temples
Day 09
:
Udaipur sightseeing tour
Day 10
:
Udaipur to Pushkar village by drive
Day 11
:
Pushkar to Jaipur ex Ajmer
Day 12
:
Jaipur city, Amer Fort and Jaigarh Fort tour
Day 13
:
Jaipur to Agra ex Fatehpur Sikri
Day 14
:
Agra to Delhi drive
Day 15
:
Depart from Delhi
Trip Highlights
The blend of historical Old Delhi and fastest growing New Delhi
The largest open air art gallery of Shekhawati
Visit majestic forts and palaces of erstwhile kings and royal families
Beautiful sand dunes of Thar Desert at Jaisalmer
Fall in love with the most romantic city of Udaipur
Beautiful cultural city of Pushkar
Ride on a decorated elephant at Jaipur to reach the hilltop fort
Enjoy and evening with live folk dances and delicious cuisine at a local restaurant
Praise the finest love story of the world while exploring gorgeous Taj Mahal
Destinations and distance:
total distance covered 2287 kms approx
Delhi

230 km / 4 hrs

Shekhawati

169 km / 2hrs

Bikaner

310 km / 5hrs

Jaisalmer

39 km / 45min (One side)

Sam Sand Dunes

242 km / 4hrs

Osian

68 km / 1hr

Jodhpur

171 km / 3hrs

Ranakpur

90 km / 1.5 hrs

Udaipur

258 km / 4.5hrs

Pushkar

15 km / 20min

Ajmer

131 km / 3hrs

Jaipur

206 km / 3.5hrs

Fatehpur Sikri

35 km / 45min

Agra

205 km / 3.5hrs

Delhi
Day 01: Arrive Delhi
After a traditional Indian welcome by our representative at Delhi airport / railway station you will be escorted to your hotel for overnight stay. The room will be blocked in the hotel for you and depending on your arrival time, where, you will be provided with individual transfer by a private car or in a coach with other group members. Today, we have no activities or sightseeing therefore you can relax in the hotel till next morning in majestic fort and palaces in India group tour
Included entrances: no sightseeing trip
Day 02: Delhi sightseeing
After breakfast, we will enjoy combined sightseeing trip of Old and New Delhi. Delhi, the national capital of India is one of the fastest growing cities and metropolis in India and serves as the capital city. The city is known for its wide spread boulevards and greenery. Old Delhi includes visit to Jama Masjid (one of the largest mosque of India) and Raj Ghat (The cremation ground of Mahatma Gandhi, father of the nation). Drive past through Red fort
To explore old city of Delhi takes many days, however, a great way to get around and experience the vibrant atmosphere and array of sounds and sights common in old Delhi is visible on traditional cycle-rickshaw.
Afternoon, we will proceed to local restaurant to enjoy our lavish lunch.
After lunch, we proceed to visit the monuments of New Delhi; this part of the city holds beautiful monuments like India Gate, President's Palace, Parliament Building, Qutab Minar, Humayun's Tomb and Lotus Temple. We take a drive through India Gate, President's Palace and Parliament Buildings. Since, this is a VVIP area of the city, parking near the palace can be a problem. You can ask the driver to stop near India Gate for a while so that you can click some beautiful photographs. Later continue drive towards the southern part of the city and visit Qutub Minar, Humayun's Tomb and if time permits also Bangla Sahib Gurudwara
Night stay will be at your hotel.
Included meals: Breakfast
Included entrances: Rickshaw ride in Old Delhi, Qutab Minar, Humayun's Tomb
Day 03 : Delhi - Shekhawati
On the third day of Majestic Fort and Palaces India Group Tour following breakfast, we will drive to Shekhawati. It is a semi desert region in North India near Delhi. If you are art lover or have interest in history and architecture, Shekhawati is something not to be missed while visiting Rajasthan.
Reach Mandawa and check into your heritage hotel. A small town (15th century) lies in the Shekhawati region of Rajasthan and is famous for open art gallery as most of the walls are richly painted and wide use of the frescoes paintings can also be seen at castle Mandawa.
In the afternoon and evening you can enjoy the visit to local havelis like Gori Shankar Haveli, Goenka haveli, etc., recognized for beautiful frescoes ornamenting the walls & ceiling. A leisurely walk into the tiny hamlet of Mandawa can be an awe inspiring experience as you get a chance to intermingle with local folks. After spending some time in the village streets return to your heritage hotel for overnight stay.
Included entrances: Frescoes and Havelies
Day 04 : Shekhawati - Bikaner
After breakfast, we head to Bikaner and check to the hotel upon arrival.
Founded in 1488 AD by the Rathore prince Rao Bikaji, the most enterprising son of Rao Jodhaji of Marwar, Bikaner is a vibrant, dust swirling town of Rajasthan with excellent outpost feel and fabulous fort. In the afternoon, you will see your guide who will take you on a tour of Bikaner city including visit to the impressive Junagarh Fort built in the year 1588 by Raja Rai Singh. This fort is not on the hill top as most of the Rajasthan forts are built. Later visit to Lallgarh Palace, whose architect was Sir Swinton Jacob; he designed this palace for Maharaja Ganga Singh and Karni Mata temple (Rat Temple). Evening fee for own activities and night stay at the hotel.
Included entrances: Junagarh fort, Lallgarh Palace
Day 05 : Bikaner - Jaisalmer
After breakfast check out from the hotel to leave for Jaisalmer, home to the finest golden deserts in India. En route, we stop for visiting Camel breeding farm. After a long drive in the evening you will reach Jaisalmer where you will check into hotel to relax for the night.
Included entrances: Camel breeding farms
Day 06: Jaisalmer & Sam Sand Dunes
Today morning after breakfast explore the Jaisalmer city having Jaisalmer Fort, constructed in the year 1156 by Raja Rawal Jaisal on the brink of an 80m elevated hill. It is the only 'Living Fort' in India where several families resides till date. Various charming Havelis (old house) are another attraction of this city we visit the glorious Patwon Ki Haveli, Salim Singh Ji ki Haveli and Nathmal Ji ki haveli, Bada Bagh and Gadsisar Lake.
In evening, enjoy the excursion tour to Sam Sand Dunes that lies 40 kilometres far from the main Jaisalmer city. There, we enjoy the camel ride and get the real sense of desert life amidst endless mounts of sands. We spend more time here watching live folk dances performed by the local artists. The entertainment will follow by delicious food for your dinner.
Overnight stay in camp at Sam Sand Dunes.
Included meals: Breakfast, Theme Dinner
Included entrances: Jaisalmer Fort, Havelies, Camel ride, Bada Bagh
Day 07 : Jaisalmer - Jodhpur via Osian
After early breakfast, we will drive to Jodhpur. On the way to Jodhpur stop at Osian which lies about 65 kms out of Jodhpur in the middle of the edge of Thar deserts. Osian is famous for its Jain temples dating back to eight and 11th century. Visit the temples and continue to Jodhpur.
Upon arrival in Jodhpur, check into your hotel. Later visit Mehrangarh Fort which is situated on the top of a steep hill and overlooks the 'blue city' of Jodhpur. Also visit Jaswant Thada, the cremation ground of the rulers of Jodhpur dotted with cenotaphs Moti Mahal or Pearl Palace, which has exquisite, painted ceilings and walls Sheesh Mahal & Rang Mahal Palaces are also noteworthy with fine decoration enriched with inlay work and mirrors.
Later, we will visit the colourful Clock Tower bazaar. We will also visit the 'spice market', where you can buy Indian spices likes like cardamom, red chillies, cinnamon, etc.
Night stay will be at the hotel.
Included entrances: Mehrangarh Fort, Jaswant Thada
Day 08 : Jodhpur – Ranakpur – Udaipur
Head for Udaipur this morning after leisurely breakfast. Udaipur the "City of Lakes" is also known to travelers as the most 'Romantic city' of Rajasthan due to its scenic beauty and glorious lakes.
On the way to Udaipur, we stop at Ranakpur to visit the group of Jain temples which is a unique example of Jain architecture. The main Jain temple is Chaumukha or four faced temple dedicated to Adinath and consists of 29 halls and 426 pillars full of sculptured decoration. No two pillars are alike here. The complex is to be visited without the help of the guide as guiding inside the temples is not permitted by the Ranakpur temple authorities.
From here, continue to drive Udaipur. Upon arival at Udaipur, check into your hotel.
In the evening, take a boat trip on Lake Pichola to enjoy the beauty of beautiful palaces and monuments in dotted along the lake. The Lake Palace Hotel and Palace is also a main attraction for the travellers during the boat ride. This palace situated in the middle of the lake was once the summer palace for the royal family of Udaipur is now a luxurious hotel. Do not forget to carry your camera to click some beautiful pictures and selfies. We continue our boat ride and reach Jag Mandir Island where we will be spending some time on our own. You can choose to have some light snacks tea/coffee on your expense, as the Jag Mandir Island offers the facilities of refreshments for the visitor. Come back to Udaipur city by return boat trip and get transferred to your hotel for a night stay.
Included entrances: Ranakpur Jain complex, Jag Mandir, Boat ride
Day 09: Udaipur sightseeing
After breakfast visit the City Palace museum, where one can find rooms with mirrored walls and ivory doors, colored glass windows and inlaid marble balconies. Also visit the famous Peacock courtyard, Sahelion-ki-Bari (the gardens of virgins laid out with lush green lawns, kiosks, trees and beautiful fountains), Jagdish Temple is also an important site to visit.
Relaxed time and night stay at your beautiful hotel in Udaipur.
Included meals: Breakfast
Included entrances: City Palace museum, Sahelion-ki-Bari
Day 10 : Udaipur – Pushkar
In the morning, we start a 04 hours drive to reach the village of Pushkar. The village of Pushkar comes alive in November when travellers from around the world come here to witness the largest cattle fair (Pushkar Fair). Pushkar fair is a grand event cherish with life oozing activities. Camel race, cultural shows, musical events, etc are the main attractions of Pushkar fair.
Get settled in your hotel at Pushkar and then take a tour of the village. Pushkar has spiritual importance for Hindus for its holy Pushkar Lake, Brahma Temple (the creator of universe) and many other temples dotted along the lake.
Enjoy a camel cart ride in the village to get closer feel of life of the locals.
Included entrances: no tickets required
Day 11: Pushkar – Jaipur
In the morning check out after breakfast and drive to Ajmer. The major pilgrimage destinations for Muslim religion. Ajmer is famous for the famous 'Dargah of Khwaja Moinuddin Chishti' where people of different religions and faith visit from around the world to take his blessings. The other attraction of Ajmer is 'Adhai Din ka Jhonpra' which was designed by Abu Bakr of Herat, Afghanistan. The mosque is famously known as 'Adhai Din ka Jhonpra' as it is believed to have been built in only two and a half days.
After visiting Ajmer, we continue for a 3 hours surface journey to the pink city of Jaipur. On arrival, we check into the hotel
Later, stroll around the busy and narrow streets of colourful bazaars of Jaipur. One can also buy gifts for friends and family from here. Jaipur is world famous for its semi-precious and precious stones, jewels, textiles and handicraft work.
This evening, we will have special arrangements for watching live folk dances, listening to local music and enjoying delicious cuisine in a local restaurant.
We have leisurely night stay at the hotel today.
Included meals: Breakfast, Theme dinner
Hotel info
Included entrances: No entrance required
Day 12: Amer Fort and Jaigarh Fort trip
On the 12th day of majestic fort and palaces of India group tour after having a quick breakfast in the restaurant of your hotel and get collected in the lobby as we are going to Amer Fort, we must reach on time to get the chance of travelling uphill on the back of a decorative elephant. Since the availability of elephants is limited, we need to be on time to get one for us or the other option is a local jeep ride to reach the top of Aravali hill to visit the palace.
Amer Fort overlooks the Jaipur city and has many beautifully carved rooms, halls and gardens. Hall of Public Audience, Hall of Private Audience and Sheesh Mahal are the main attractions for the visitors.
Later, we move to Jaigarh fort that overlooks the Amer fort from the top of a nearby hill. Jaigarh Fort can be reached by walk through a tunnel which connects Amer Fort and Jaigarh Fort. The tunnel is about one km long and may be difficult for elderly people to travel to Jaigarh Fort through the tunnel. In this case we come down to our vehicle and take a beautiful 10 minutes drive to reach Jaigarh Fort. At Jaigarh Fort, we will see the largest canon on wheels displayed for the public and the Victory Fort.
Also visit Gaitore which is famous for its cenotaphs or 'Chattris', well known as Gaitore Chattris Return back to the city and enjoy half day sightseeing tour visit Hawa Mahal (Palace of Winds), Jantar Mantar (the largest observatory in India) and City Palace Museum.
Overnight stay will be at Jaipur
Included meals: Breakfast
Included entrances: Elephant ride, Amber Fort, Jaigarh Fort, Gaitore, Hawa Mahal, Jantar Mantar Observatory, City Palace Museum
Day 13: Jaipur –Fatehpur Sikri – Agra
Headed to Agra, enroute visit the ghost city of Fatehpur Sikri which lies about 30 kms out of Agra city on the highway. Fatehpur Sikri is the best example of the culmination of Hindu and Muslim architecture. This beautiful walled town was built by Mughal Emperor Akbar to commemorate the birth of his son Jahangir. Fatehpur Sikri served as the capital of Mughal Empire for about 15 years and they moved to Agra due to lack of water availability near Fatehpur.
After visiting Fatehpur Sikri, we proceed to Agra and spend some time in our hotel while relaxing.
In the afternoon, we get set for the most awaited movement of our trip as we visit world's best monument 'Taj Mahal'. We take a short drive in our vehicle to reach the parking area and from here we will visit Taj Mahal on a 'Tonga' (Horse cart). At Taj Mahal, the guide will brief you on the history and architectural genius of the monument and then will allow you some time to capture the pictures of Taj Mahal in your camera and your heart.
Come back to your hotel for night stay.
Remarks : 'Mohhabat-e-Taj' show can be an optional one hour show which you may select for the evening. Backed by 60 performing artists this 80 minutes dance drama spectacle supported by audio visuals narrates the story of Taj Mahal.
Included entrances: Fatehpur Sikri, Taj Mahal
Day 14: Agra - Delhi
If you want to visit Taj Mahal again in the morning during sunrise and spend some time with your love at the monument, we will offer you complimentary transport for this. No guide service will be available from our end as this is only a gesture to offer you some private time on the monument of love that you will enjoy on the 14th day of majestic fort and palaces India Group Tour.
Leisurely breakfast will be served in the hotel restaurant and after relaxed morning, we will check out from the hotel. Complimentary transport is arranged for those who wish to go to the market for doing some shopping around. Agra is famous for beautiful inlay marble items and furniture's. Other than marble, jewels, carpets and textile are the main things travellers buy here.
Later, we will visit the Agra fort - the rusty and majestic red-sandstone fort of Agra stands on the banks of the river Yamuna and the construction was started by Emperor Akbar in 1566. Then we will drive to Delhi, along the traditional highway.
Upon arrival in Delhi, you will be directly transferred to Delhi airport to board flight back to home/next destination
Remarks : If your flight time or your interest demands you can ask us to provide room in the hotel for the night at additional charges.
Included meals: Breakfast
Included entrances: Agra Fort
Day 15: Leave Delhi
Intime depart from Delhi airport.
Included meals: Breakfast
What's included
Accommodation
12 nights in handpicked modern hotels/ heritage hotels (Palaces & residence of royal families)
01 night in desert camp
Transport
Air conditioned coach/bus
Camel
Boat
Elephant
Tonga (Horse cart)
Walk on foot
Cycle Rickshaw
Meals
13 Breakfasts
01 Lunch
02 Dinners
Tour Guide / Escort
Escorted airport transfers
Expert and qualified tour guides in each city
Others
01 Rickshaw ride at Chandni Chowk in Delhi
Camel ride at Sam Dunes
01 Common boat trip on Lake Pichola
01 Decorated elephant ride at Jaipur to ascend the fort
Folk dance show in Jaipur
Tonga ride at Taj Mahal
Monument & museum entry tickets for places listed in the tour
Taxes and service fee
Not included

International or domestic flights tickets and airport taxes

Travel Insurance

Visa

Tips at hotels, restaurants, stations, monuments etc.

Portage at airports, railway stations and hotels

Pre and post tour accommodation or transport services

Meals other than specified

Camera fee at monuments or museums

Personal expenses such as drinks, snacks, laundry, telephone calls, mini fridge/bar in room etc.

Single room cost
Other item which is not specified in the above list of inclusions