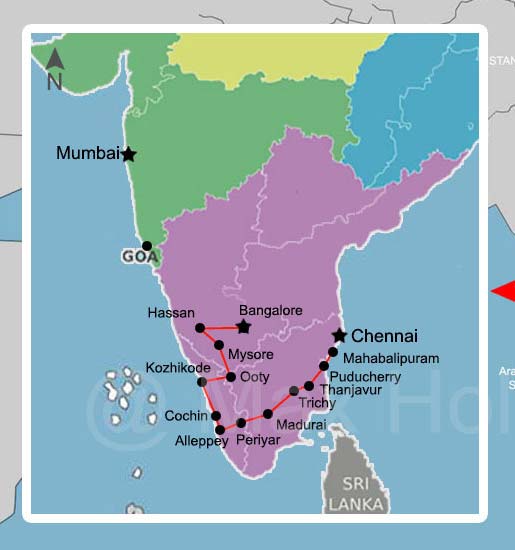 Trip introduction
Experience touring to some of the most fascinating locations of incredible South India on our grand South India Group Tour that departs from Bangalore every month and takes you to the finest tourist spots of three neighbouring states of Karnataka, Kerala and Tamilnadu. This is a 17 days fixed departure group tour of South India packed with lots of architectural wonders, historical sites, gardens, temples, waterfalls, tea & spice gardens, wildlife, backwater cruise experience, cultural evenings and few off beat experiences to cherish forever.
Brief itinerary
Day 01
:
Arrive at Bangalore
Day 02
:
Bangalore city sightseeing tour
Day 03
:
Bangalore to Hassan ex Sravanbelagola
Day 04
:
Visit Halebidu and Belur. Drive to Mysore.
Day 05
:
Mysore to Ooty drive
Day 06
:
Ooty sightseeing tour
Day 08
:
Calicut to Cochin ex Guruvayur
Day 09
:
Cochin sightseeing tour
Day 10
:
Cochin to Allepey and embark on a houseboat trip
Day 11
:
Disembark and drive to Periyar Wildlife Sanctuary
Day 12
:
Jungle activities and drive to Madurai
Day 13
:
Madurai to Thanjore (Thanjavur) drive ex Trichy (Thiruchirapalli)
Day 14
:
Thanjavur to Puducherry (Pondicherry) drive
Day 15
:
Puducherry to Mahabalipuram (Mamallapuram) drive
Day 16
:
Mahabalipuram and Kanchipuram tours
Day 17
:
Chennai sightseeing and depart to home
Trip Highlights
Visit Tipu Sultan's summer palace
The tallest monolithic statue of Gomateshwara
Amaze yourself at the most magnificent Mysore Palace
Visit the architectural marvels at Halebidu and Belur temples
Explore the picturesque Nilgiri Hills
Watch live Kathakali dance performances
Sail on Kerala backwaters in your private houseboat
Discover beauty of South India's flora and fauna at Thekkady (Periyar)
The most famous historic Meenakshi temple
Mingle with pilgrims in famous temples of South India
Destinations and distance:
total distance covered 1794 kms approx
Bangalore

143 km / 2 hrs

Shravanabelagola

83 km / 1.5hrs

Halebidu and Belur

155 km / 2.5hrs

Mysore

126 km / 2.5hrs

Ooty

165 km / 3.5hrs

Calicut

93 km / 1.5hrs

Guruvayur

92 km / 1.5hrs

Cochin

57 km / 1hr

Allepey

139 km / 2.5hrs

Periyar Wildlife Sanctuary

148 km / 2.5hrs

Madurai

132 km / 1.5hrs

Trichy (Thiruchirapalli)

57 km / 1hr

Thanjavur (Tanjore)

165 km / 2.5hrs

Puducherry (Pondicherry)

99 km / 1.5hrs

Mahabalipuram (Mamallapuram)

66 km / 1hr

Kanchipuram

74 km / 1.5hrs

Chennai
Day 01: Arrive Bangalore
After arrival in Bangalore, the capital city of Karnataka, you will be greeted & welcome with flower garland by our representative at the Bangalore International Airport. After a warm welcome, transfer to your hotel and check in for overnight stay.
Included entrances: no sightseeing trip
Day 02: Bangalore sightseeing tour
Today after breakfast, we proceed for sightseeing tour of Bangalore City. Visit Tipu Sultan's Palace, originally built in 1537 and rebuilt by Haider Ali a couple of centuries later; Bull Temple , which houses a huge granite monolith of Nandi, the holy Bull; Lall Bagh gardens laid out in the 18th century and regarded as one of the most richly diverse botanical gardens in south Asia. Also visit Vidhan Soudha - Grand South India Group Tour, the state legislative chambers built in granite with magnificent amalgamation of modern and traditional Dravidian temple style architecture.
Enjoy evening at leisure. Night stay will be at your hotel.
Included meals: Breakfast
Included entrances: Tipu Sultan's Palace
Day 03: Bangalore – Shravanabelagola - Hassan
Morning we drive to Hassan. On the way to Hassan, we stop at Shravanabelagola which is one of the oldest and most important pilgrimage destinations in Jainism in India. This huge 17m-high naked statue of Bahubali (Gomateshwara) is said to be the tallest monolithic statue of the world. It is situated about 158 kms from Bangalore on the top of a rocky hill overlooking the sedate country town of Shravanabelagola. From here, we will continue our drive to Hassan. Upon arrival in Hassan, check into your hotel.
Included entrances: sightseeing
Day 04: Hassan – Belur – Halebid – Mysore
Morning enjoy your breakfast in the hotel and then drive to Halebid (or Halebidu) and Belur. Built in the superb baroque style during 12th and 13th century, the magnificent temples are carved of stones. As one architect and critic said "These friezes carved with a minute elaboration of detail are one of the most marvelous exhibitions of human labor to be found even in the patient East". Located on the bank of river Yagachi, Belur was the capital of Hoysala Empire and is considered as Benaras (Varanasi) of the South. It is also known as Dakshina Varanasi. The temple at Belur is famed for its profusely ornamented exterior. The temple at Halebidu is famous as open-air museum for its endless depiction on the walls from Hindu mythology, animals and birds, etc. Here you will also visit the 57 ft high colossal monolithic Jain statue which stands on top of a steep bare hill.
After finishing the sightseeing of the Belur and Halebidu temples continue drive to Mysore to capture the heritage of the state from an altogether different angle. Upon arrival, check-in at hotel.
Included entrances: Belur temples, Halebid temple
Day 05: Mysore – Ooty
On the fifth day of Grand South India Group Tour you will enjoy sightseeing tour of Mysore. Visit the lavishly decorated Maharaja's Palace (Mysore Palace). Later drive to Ooty, the queen of South India hill stations. It nestles in the Nilgiri Hills at an altitude of 7500ft above sea level still reminds us for the British raj in India, the Ooty a picturesque hill station of the South India. Apart from its natural beauty Ooty has many other places of tourist interest.
Upon arrival in Ooty, check-in at hotel and spend rest of the time at leisure.
Included meals: Breakfast
Included entrances: Mysore Palace, Chamundi Hills
Day 06: Ooty sightseeing
Have your breakfast in the hotel and the take a tour of Ooty visiting St. Stephen's Church, Ooty Club – the intriguing headstones in the cemetery, Ooty Lake and the beautiful Botanical Gardens. The Botanical Garden of Ooty is perhaps the most iconic spot of this beautiful hill station. This is home to more than 2,000 species of plants and is a hot place for movie shoots.
Afternoon is at leisure to enjoy the nature. Night stay at the hotel.
Included entrances: Botanical Gardens
Day 07: Ooty – Calicut
Morning drive to Calicut or Kozhikode, the most famous port of Malabar coast. Once it was the main port for Greeks for exporting spice and clothes from India to Greek. Arabs were first to arrive at Calicut followed by Chinese, Portuguese, Dutch and finally British. Calicut or Kozhikode is popular for its picturesque beauty, festivals, and fun loving people who make the place much inviting for the travelers.
On arrival at Calicut check into your hotel and later take a sightseeing tour of Calicut. Visit the Beypore Fort, Kadalundi Bird sanctuary, Pazhassiraja Archaeology Museum (museums remain closed on Mondays) and enjoy the unspoiled and uncrowded Kappad beach for a memorable experience. Here at Kappad beach you can spend some time in the evening watching the most beautiful sunset you may have ever seen.
Night stay will be at Calicut.
Included entrances: Beypore Fort, Kadalundi Bird Sanctuary, Museum
Day 08: Calicut – Guruvayoor – Kochi
Today morning after breakfast drive to Kochi (Cochin). Popularly known to travelers as 'Queen of Arabian See' Cochin is the commercial hub and main natural harbor of state of Kerala. It is said that it was once under the rule of Portuguese, Dutch and British rule.
As we drive to Cochin, about 80 kms out of Calicut we will stop at Guruvayur, a thriving township in the district of Trissur or Trichur. Visit Guruvayurappan Temple (Non –Hindus are not allowed inside the temple) and Guruvayura Elephant sanctuary which is one of the largest elephant sanitarium in the world.
Proceed to Cochin and on arrival check into the hotel. Spend some leisurely time in the hotel before we go to watch spectacular Kathakali Dance performance. Kathakali is one of the oldest theatre forms in India and this show is a spectacular combination of drama, dance, music and ritual. During the show you can see characters with vividly painted faces and elaborate costumes re-enact stories from the Hindu epics of Mahabharata and the Ramayana. If you visit a little early you can also see the dancers getting ready and their preparation for the show.
Included entrances: Guruvayoor Elephant Sanctuary, Kerala Kathakali centre
Day 09: Cochin sightseeing tour
This morning meet with your tour guide in the lobby f your hotel and after a short briefing start sightseeing tour of Cochin. Known as the 'Gateway to Kerala backwaters' Cochin has a number of historic sites. The sightseeing tour of Cochin will cover a visit to Dutch Palace or Mattancherry Palace, Jewish Synagogue, Jews Street, St. Francis Church and Chinese fishing net.
Leisurely evening and night stay at the hotel in Cochin.
Included meals: Breakfast
Included entrances: : Jewish Synagogue, Dutch Palace
Day 10: Kochi – Alleppey – Houseboat
Have you leisurely breakfast in the hotel and then get transferred to Alleppey where we board the beautiful houseboat or riceboat to cruise through the calm backwaters of Kerala.
Spread in an area of about 1500 kms with a network of manmade and natural canals, lagoons, lakes and rivers; Kerala backwaters is one of the major attractions for travelers. Traditionally, used as one of the main source of transport by people of Kerala, the houseboats today are serving the tourism of Kerala as semi luxurious and luxurious floating hotel with all modern hotel amenities and services available on board.
Kerala backwaters consist of a complex network of lagoons, lakes, & canals and are best experienced while slowly rowing down the labyrinth of canals in a traditional thatch-roofed houseboat, known as 'Kettuvallam'. See life on the banks, lush green rice fields, and coconut groves with occasional temple or church as you cruise through the canals. Enjoy the special Kerala style meals prepared by your chef on board.
Included meals: Breakfast, Lunch, Dinner
Hotel info
Included entrances: sightseeing
Day 11: Houseboat - Periyar
After breakfast, disembark your houseboat & drive to Periyar, the wildlife and spice plantation hub of Kerala. Upon arrival in Periyar, check-in at hotel for 01 night stay. This afternoon, take a spice plantation tour and learn about the mystery and history of Indian spices. You also get the opportunity to shop for fragrant spices at a local market.
Later you will visit Periyar Wildlife sanctuary, one of the finest elephant reserves of south India. Take a boat cruise on the serene Lake Periyar, spotting migratory birds and local wildlife around the lake (at extra charge of USD 15 per person and subject to operation).
Included entrances: Periyar Forest
Day 12: Periyar – Madurai
Today morning drive to Madurai that is one of the oldest cities of India; with a history dating all the way back to the Sangam period of the pre Christian era.
Later, visit the Tirumala Nayak Palace - A gracious building in the Indo -Saracenic style, famous for the Stucco work on its domes & arches. In the evening, witness a pooja ceremony at Meenakshi temple. Witness the Aarti ceremony at the beautiful Meenakshi temple.
Included entrances: Meenakshi temple, Thirumalainayak Palace
Day 13: Madurai – Trichy – Tanjore
The day begins with a drive to Tanjore , which is also known to be as Thanjavur a historical town and popularly known as the temple city. It was also once the capital of Chola Empire as well. En route visit to Trichy, you will visit the Rock-Fort that was the citadel of the Chola dynasty in the medieval period. In the 18th century, the fort witnessed the Carnatic wars fought between the French and the English. Lord Robert Clive's and a Danish Church you can also see within the church. The Rock-Fort is the landmark of Trichy. A climb of 434 steps leads to the ancient temple of Ganapati on top and a further climb to a Shiva temple. After visit continue drive & upon arrival check-in at hotel for 01 night stay.
Later visit to the beautiful Chola Temple of Brihadeshwara which is capped by a monolithic cupola made of a single granite block weighing 80 tons which was taken to the top with the help of a 6 km long ramp, an old technique used by the Egyptians for building pyramids. Its bronzes and handicrafts make Tanjore one of the highlights of a visit to South India. Also you will visit Thanjavur Palace & Museum, which houses a library, museum and art gallery. The area, known for its craft industry, is covered with fertile plains, whose rice plantations cover most of the requirements out of rice for Tamil Nadu.
Included entrances: Tanjore Art Gallery
Day 14: Tanjore-Pondicherry
Today after breakfast head to Pondicherry which was once the French Colonial town and still bestows the same culture. It was taken over by the Indian government in November, 1954. Now Pondicherry is famous for its Auroville ashram which was founded in 1926 by a French woman. The Auroville ashram brings forward spiritual code of belief that represents a fusion of yoga and modern science. Sightseeing tour and a stay at Pondicherry.
Included entrances: sightseeing
Day 15: Pondicherry – Mahabalipuram
Today morning on the Grand south India group tour you visit Mahabalipuram, a town famous for its rocks carvings and monolithic sculptures. Upon arrival check-in at hotel
Later, visit the Shore temple (one of the oldest temples in south India, belonging to the early 8th century AD), Arjuna's penance (the world's largest bas-relief measuring 27m x 9m - this huge rock consists figures of Gods, men, beasts, birds and represents the entire creation) and Five Rathas (five monolithic temples, each having its own style - also known as the "Panch Pandav Rathas".
Included entrances: Five Rathas & Shore Temple
Day 16: Mahabalipuram – Kanchipuram - Mahabalipuram
Today, we will proceed for the day return trip to Kanchipuram, which is one of the seven holy cities in India. In ancient and medieval India, it was considered as a city of learning for both Tamil & Sanskrit and was considered to be visited by Hsuan Tsang, the famous Chinese traveller. The next trip of Day 16 is Kailasanatha Temple, made in 8th Century AD in the typical Pallava style, with a pyramidal tower, a pillared hall & vestibule, enclosed by a wall. Ekambaranatha, ancient temple is dedicated to lord Shiva. The 57 metres high Raj Gopuram in the temple is one of the tallest towers in South India. The 3000 year old mango tree inside the temple has 4 branches each yielding different variety of mangoes. Kamakshi Amman Temple, built in 12th century AD, as an important Shakthisthalam, known as Parabrahmaroonpini. The main deity is seated on Brahma, Vishnu, Rudra, Eswara & Sadasiva.
Included meals: Breakfast
Included entrances: No Entrance Fess
Day 17: Mahabalipuram – Chennai – Departure
On the grand group tour of south India, the 17th day begins in the morning with a drive to Chennai, the gateway and the capital of Tamil Nadu. The first destination on arrival on sightseeing of Chennai is government museum that has a good collection of paintings and sculptures both traditional as well as modern.
After that, next spot to be toured in Chennai is Fort St. George that was originally a warehouse for storing stocks, but founding of the St George for security purposes in 1939 led to the birth of city of Chennai. Within the Fort, the museum has many relics from British period in India on display as collection of contemporary paintings as well as rare military paraphernalia as weapons, uniforms, coins, costumes and medals. The Next destination santhome Cathedral at the southern tip of famous Marina beach features the beautiful stained glass window at the basilica depicting the story of St Thomas and the central hall that has 14 wooden plaques depicting events from the last days of Christ.
While concluding the 17th day trip the last destination is the eight-century Kapaleswara temple constructed in Pallavan architecture style. Kapaleeshwar Temple is located in Mylapore in Chennai and is considered by the Hindus to be one of the most sacred Hindu pilgrimages in the Southern Part of India.
In time transfer to the airport to catch the flight back to home.
Included meals: Breakfast
Included entrances: Fort St. George, Museum, Santhome Cathedral church
What's included
Accommodation
13 nights in handpicked modern hotels
02 nights in a resort near tea gardens
01 night on a deluxe air conditioned private houseboat
Transport
Air conditioned coach/bus/car
Backwater houseboat (floating resort)
Elephant
Walk on foot
Traditional jungle boat
Meals
16 Breakfasts
01 Lunch
01 Dinner
Tour Guide / Escort
Escorted airport transfers
Expert and qualified tour guides in each city
Others
Classical dance performance at Cochin
Onboard tea/coffee/cookies during backwater houseboat trip
Common boat trip on Lake Periyar
Jungle entry tickets during boat trip
Monument & museum entry tickets for places listed in the tour
Portage at airports, railway stations and hotels
Taxes and service fee
Not included

International or domestic flights tickets and airport taxes

Travel Insurance

Visa

Tips at hotels, restaurants, stations, monuments etc.

Pre and post tour accommodation or transport services

Meals other than specified

Camera fee at monuments or museums

Personal expenses such as drinks, snacks, laundry, telephone calls, mini fridge/bar in room etc.

Single room cost
Other item which is not specified in the above list of inclusions