Day 01 : Arrive - Delhi
On arrival at Delhi airport you have private transfer booked for you in a private air conditioned car. Our company staff will be waiting for you just outside the airport and he will ensure a smooth transfer for you from the airport to hotel. Arrive at your beautiful Imperial Hotel and spend the night in a very elegantly decorated room.
Included meals: no meal included
Included entrances: no tour activity
Day 02 : Delhi sightseeing
This is your first day on your luxury Golden triangle tour in India. Wake up and enjoy healthy and tasty breakfast in your excellent hotel. Later meet with our tour guide in the hotel lobby. Get briefed about the tour and get started for a combined city tour of Old and New Delhi.
Start the sightseeing tour from the old part of the city. You will hear the bells of bicycle rickshaw, horns of luxurious cars and even the cows sitting in the middle of the road. This is what old Delhi has to offer to its daily life. Reach Red Fort from where you start a cycle rickshaw ride towards the busy markets of Chandni Chowk which is considered to be the market place of Mughal's. Get close experience of the life of locals living in this part. Then proceed to Jama Masjid for a visit. This is the largest mosque in India with a courtyard capable of holding more than 25,000 devotees at a given time. After finishing the tour of Old Delhi proceed to Raj Ghat, the cremation site of Mahatma Gandhi.
We drive past through the most beautiful part of Delhi as we see India Gate, President's Palace and other Govt buildings from the window of our vehicle. Parking near the palace is not permitted, therefore if you wish to click some photograph here, you need to ask your guide to arrange a stop at a nearby suitable parking.
It is now lunch time and we enjoy our mouth watering meal in a city restaurant.
Post lunch visit Humayun's Tomb (the first substantial example of Mughal architecture in India), Qutub Minar (73 meter high beautiful minaret built in 1193 by Qutub-ud-din-Aibak immediately after defeating Delhi's last Hindu Kingdom) and Lotus Temple (the last of seven major Bahai's temples built around the world)
Now after a long and hectic day we have time to relax in our beautiful hotel till we head to our next destination tomorrow.
Included meals: Breakfast, Lunch
Included entrances: Humayun's Tomb & Qutub Minar
Day 03 : Delhi – Agra
Buffet breakfast is served in the hotel restaurant. Get collected in the lobby of your hotel where the driver is waiting to pick you for a beautiful drive to Agra through the very comfortable express highway. On arrival at Agra we check into the very luxurious Oberoi Amarvilas hotel.
After wash and change, we will visit the massive Red Fort of Agra which is situated on the right bank of Yamuna river. This great fort was built by the Mughal Emperor Akbar. After Agra Fort, visit the Tomb of Itmad-ud-Daulah which is often regarded as draft of Taj Mahal.
In the evening we will visit the very beautiful Taj Mahal which was built by Mughal Emperor Shah Jahan in the sweet memories of his beloved wife Mumtaz Mahal who died while giving birth to his 14th child.
Spend rest of the time in our luxurious hotel Oberoi Amarvilas.
Included meals: Breakfast
Included entrances: Taj Mahal, Itmad Ud Daulah, Agra Fort
Day 04 : Agra - Fatehpur Sikri – Jaipur
Spend leisurely morning in your hotel and then after breakfast head to Jaipur city. The capital city of Rajasthan, Jaipur is famous among travelers as 'Pink City' for its pink coloured building, houses and markets.
30 kms after leaving Agra city we will see a huge fort on the upper part of the hill. This is the forbidden city of Fatehpur Sikri which is now a deserted city and thus regarded as the 'Ghost city' sometimes. This beautiful monument is the creation of Mughal Emperor Akbar who built it on the birth of his son Jahangir. After staying in this city for about 10 year Mughals moved thier capital to Agra due to shortage of water near Fatehpur Sikri.
Another stop is at Abhaneri village where we will visit Chand Baoli, the world famous stepwell is considered to be one of the biggest in the world. From here, we will continbue our drive to Jaipur
Upon arrival in Jaipur check into your beautiful hotel Oberoi Rajvilas. This beautiful hotel situated in 32 acres of lush gardens is set in a style of a fort and offers tastefully decarated luxury villas and tents with ultra modern facilities.
Leisurely stay in your beautiful resort Oberoi Rajvilas.
Included meals: Breakfast
Included entrances: Fatehpur Sikri, Abhaneri step well
Day 05 : Jaipur sightseeing
The day starts with an excursion to the 16th century fort of Amer. Amer the erstwhile capital of Jaipur city is situated atop the Aravali hill, overlooking the city of Jaipur. We enjoy a royal elephant ride fromthe foothill to reach the fort.
After Amer Fort we will drive back into the city and explore some of the most beautiful monuments including Hawa Mahal (Palace of Winds), Jantar Mantar (India's largest observatory) and City Palace (Museum and also residence of the royal family of Jaipur).
We will visit the colourful bazaars of Jaipur to see the life of the locals on the streets. Spare some time to shop souvenir from friends and family. Jaipur is world famous for its tested and certified precious and semi precious stones, carpets, textile and jewels.
A pre appointed meeting with a famous astrologer can be arranged. Please fill the booking form to seek an appointment with the Astrologer and Vastuvid.
Overnight stay at the most luxurious hotel Oberoi RajVilas
Included meals: Breakfast
Included entrances: Amer Fort, Hawa Mahal, Observatory, Museum
Day 06 : Jaipur - Delhi
After a relaxed sleep get up in time and have your sumptuous breakfast in the hotel restaurant and then drive back to Delhi. Upon arrival in Delhi, check in your luxury hotel The Imperil or Oberoi Gurgaon. Spend rest of the day for shopping and personal activities.
Included meals: Breakfast
Included entrances: no sightseeing activity
Day 07 : Delhi Departure
Thank you for being in this wonderful Golden Triangle journey with us. Our representative and driver will ensure a timely transfer for you from your hotel to the airport as you take your flight back to home or next destination.
Included meals: Breakfast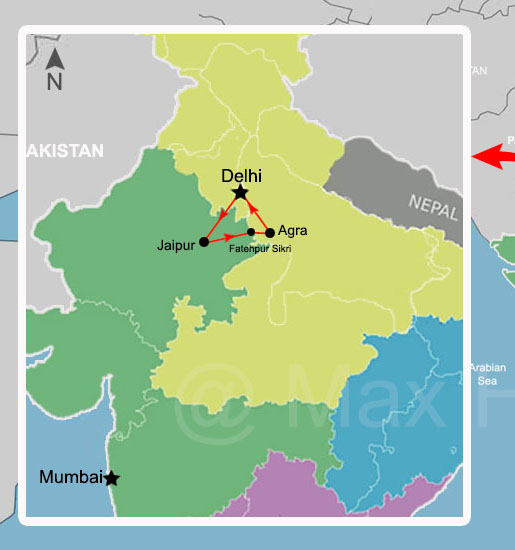 Trip introduction
Wonderful Taj Mahal India Taj Mahal is also called the "monument of love". Every stone speaks the language of love which will remain an immortal for centuries. In a weeks time one can carry the memories of a lifetime. This tour takes you to some of the fascinating destinations of India like Delhi which is the capital of India and rich in heritage buildings, Agra of course for Taj Mahal , Jaipur where the monuments speaks about the courage and vigour of the Rajput Kings. At Ranthambore you can meet the king of Jungle, Tiger and his subjects.
Brief itinerary
Day 02
:
Old and New Delhi sightseeing tour
Day 03
:
Drive to Agra. Sightseeing in Agra
Day 04
:
Visit Fatehpur Sikri and Abhaneri village
Day 05
:
Elephant ride at Amer Fort and sightseeing in Jaipur
Day 06
:
Relaxed day and drive to Delhi hotel
Day 07
:
Depart from Delhi to onward destination
Trip Highlights
Most luxurious Indian travel experience
Beautiful combined sightseeing of Old and New Delhi
Rickshaw ride in crowded streets of Chandni Chowk
Short walk in colourful bazaars of Pink City
Maharaja ride on an decorated elephant in Jaipur
Decorated tonga / buggy ride to visit world renowned Taj Mahal
Most experienced tour guides for sightseeing
Private deluxe car with experienced and trained tourist driver
Taste mouth watering Indian cuisine at a city restaurant
Enjoy Rajasthani folk dances at Jaipur
Stay in some most luxurious hotels of India
Destinations and distance:
total distance covered 714 kms approx
Delhi
204 km / 4 hrs
Agra
34 km / 45 min
Fatehpur Sikri
206 km / 4 hrs
Jaipur
270 km / 5 hrs
Delhi
What's included
Accommodation
03 nights in Imperial or Oberoi hotel in Delhi
01 night in Amar Vilas hotel at Agra
02 nights in Rajvilas Hotel in Jaipur
Transport
Private deluxe air conditioned car
Cycle Rickshaw ride
Tonga/ Buggy
Decorated elephant
Walk on foot
Meals
Guides
Escorted airport transfers
Experienced English speaking tour guides for sightseeing
Others
Rickshaw ride at Chandni Chowk in Delhi
Decorated elephant ride at Jaipur to ascend the fort
Tonga or Buggy ride at Agra to visit Taj Mahal
Taxes and service fee
Not included

Monuments

Portage